My passion for coaching and helping others move through transitions, grief and disorganization stems from my personal journey. I grew up in a dysfunctional home, surrounded by squalor. I was greatly affected by the depression, addiction, and abuse around me. Shame and insecurity were familiar friends. My father worked two jobs and was not often home, while my mother spent most of her days in bed. When I was eleven, she was diagnosed with cancer that took her life within five years. During high school, I dealt with my internal pain in unhealthy ways. Looking back, I can see how addiction was calling out my name. I was restless and empty; lost, yet not alone.
The seeds of faith God planted in me as a young child began to grow within the chaotic mess of my soul. I became aware of how He'd always been there: protecting, providing and beckoning me towards Himself. At age eighteen, I discovered a lasting hope in Jesus Christ. His love and grace has radically transformed my life. He continues to journey with me daily, amidst life's joys and sorrows.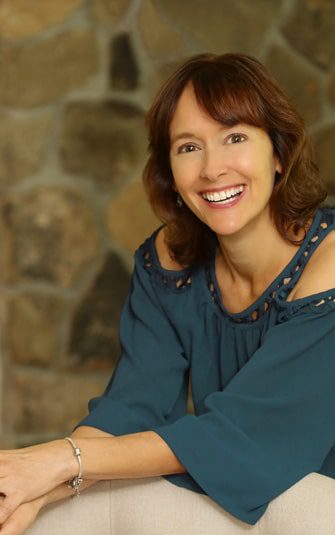 Over the past decade, I've experienced traumatic loss: my father to dementia, my three-year-old nephew to meningitis, and my brother to suicide. The paralyzing pain I felt as I went through the process of grieving caused me to become situationally disorganized. I needed the support of others to dig down and sort through the clutter that built up in my home, mind, and soul. I've experienced healing through learning to let go of the things that don't really matter, and discovering the things that do.
My coach training led me to a deeper understanding of who I am, and helped me to discover my identity, values, and strengths. I've been equipped with skills to listen, encourage and empower others who face loss. I've realized it's not what happens to us; it's what we do with what happens to us. Therefore, I choose to live each day with gratitude and live out a deeper purpose. I feel privileged to help my clients' get unstuck  as they find hope, resilience, and purpose in the midst of life's challenges.
When I am not coaching, or caring for my husband and six children, you will likely  find me walking, hiking, biking or spending time with friends. I practice daily "self care, soul care' and cherish quiet moments with God and those I fiercely love. I feel most happy while sitting outside on a sunny day with a morning coffee and my favorite Book of all time.
Christian Coach Institute: I am a Certified Professional Life Coach and a Certified Group Coach through this ICF accredited training school. The two comprehensive training courses I took laid an expert foundation for my ever growing coaching skills and equipped me with the tools I need to be an effective coach.
Coach Approach for Organizers:  I am a Coach Approach Graduate through this ICF accredited training school. Over the course of 18 months, I took 5 extensive core foundation coaching classes. The courses trained me to empower clients who struggle with chronic disorganization, brain-based challenges, ADHD, too-busy lives, situational stress and difficult life transitions.
Institute of Professional Grief Coaching: I am a Certified Grief Coach through this ICF accredited training school. I have been instructed on how to offer powerful coaching tools and exercises to reduce the grief-related pain, fear, stress, and anxiety that comes from loss. It is my privilege to come alongside grieving individuals as they journey through grief, and help them move forward with meaning and purpose in the shortest time possible.
David Kessler: I have completed a year long Certified Grief Educator certificate program designed by this world-renowned grief expert. I am committed to providing the highest level of grief support through education, experience, and insights into the often unacknowledged rocky terrain of loss. I bring David's unique methodology, tools, and decades of experience to help people navigate the challenges of grief.
Norman Wright Institute of Grief, Crisis and Trauma Counseling: I have earned a Grief, Crisis & Trauma Self-Study Certificate, working personally with Dr. Wright to discuss and review course content. He is the author of over 70 books and has developed curriculum in loss, crisis and trauma as well as community wide grief recovery seminars. The course materials offered in this comprehensive self-study program have further enhanced my education, so I can minister to others in the midst of their own grief, crisis and trauma.
National Association of Productivity and Organizing Professionals: I was a member of NAPO for over 10 years, and also a part of the Golden Circle (this award is given in recognition of those who attained an elevated level of experience.) I'm grateful to have been a panel presenter for the NAPO Conference in Ft. Worth, as well as to the Professional Organizers of Canada (POC) 2019 Conference. As a member of NAPO-NNJ, I participated in monthly meetings, volunteered for local events and offered educational training to our Chapter members.
Institute for Challenging Disorganization: I was a 7 year member of this incredible community of professionals, taking over 95 classes and attending 5 annual conferences. I was provided education, research and strategies by experts in the field, which continues to benefit my clients who are affected by chronic disorganization and brain-based challenges.
Mental Health First Aid: I am Certified in Mental Health First Aid and have received training to provide initial help to people experiencing mental health issues such as depression, anxiety, psychosis, and substance abuse disorders. This course has further equipped me as a professional to offer communication and support skills to others that focus on resilience and strengths.
Hoarding Home Solutions for Independent Service Providers: I have taken the Hoarding Home Solutions for Independent Service Providers training course, which is a comprehensive program developed to bridge the gap between hoarding research and practical application with clients. As a graduate, I've gained the knowledge, skills and practical strategies to facilitate change in the lives of others with confidence and compassion.
William Paterson University: I hold a B.S. in Community Health Education from this accomplished institution. I have developed and taught educational health programs to communities and individuals over the years, and continue to utilize this foundational degree to help my clients  learn about holistic lifestyle choices that can better improve their overall health.
These are the personal values that define who I am and what I bring to my work:
1.
Faithfulness
I am loyal to my God, and to those He has me serve.
2.
Honesty
I speak the truth sincerely, in love and with integrity.
3.
Compassion
I treat others with respect, authenticity and kindness.
These are the strong professional ethics I believe in and stand on:
Working Relationships
I will serve my clients with integrity, competence, and objectivity, and will treat them with respect and courtesy.
I will offer services in those areas in which I am qualified and for those, I am not, will make every effort to recommend the services of other qualified professionals.
I will advertise my services in an honest manner and will represent the coaching & organizing professions accurately.
Confidentiality
I will keep client information confidential, both business and personal.
I will use proprietary client information only with the client's permission.
Fees
I will communicate my fees and expenses in advance, which are reasonable and in accordance with my experience, the services I deliver, and the responsibility I accept.
I will make recommendations for resources with my client's best interests in mind.